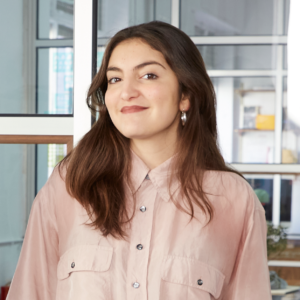 Me inspiran los lugares fríos, el bosque, el aire con olor a tierra, las ventanas, el horizonte, el mar, nadar, el agua, tomar mate, la sonrisa, escuchar jazz, los libros que te explotan la cabeza, el saber, el origen de las cosas, la cultura, el teatro, el cine, las palabras, la imagen, la moda, un museo, la revolución, los cambios de paradigma, un bar, conocer gente nueva, viajar, los sabores, la astrología, darle un sentido a todo.
Vivo en Madrid. Mi cable a tierra es pintar y explorar diferentes técnicas donde pueda ponerle mi toque artístico. Soy publicista argentina, con muchos años de experiencia en desarrollar campañas de comunicación para marcas globales. Mi pasión y amor por el arte y las imágenes me llevaron a crear Talleres Piolas en Madrid, un proyecto cultural donde soy la co fundadora, organizo talleres con artistas, desarrollo la estrategia de comunicación, imagen de marca y creación de contenidos. Siempre estoy perfeccionándome y explorando novedades en lo que más me gusta: arte y comunicación.
+
+
I am inspired by cold places, the forest, the air smelling of earth, the windows, the horizon, the sea, swimming, the water, drinking mate, smiling, listening to jazz, books that blow your mind, knowledge, the origin of things, culture, theater, cinema, words, image, fashion, a museum, the revolution, all the paradigm changes, a bar, meeting new people, traveling, flavors, astrology, giving meaning to everything.
I live in Madrid. My passion is paint and explore different techniques where I can put my artistic touch. I am an Argentine publicist, with a lot of experience in developing communication campaigns for global brands. My passion for art and images prompted me to create Talleres Piolas in Madrid, a cultural project where I am the co-founder, I organize workshops with artists, development of communication strategy, brand image and content creation. I am always perfecting myself and exploring news in what I like the most: art and communication.